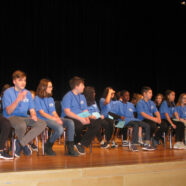 11th Annual Holten-Richmond Middle School Spelling Bee
Join us in the Danvers High School Auditorium at 6:00pm on Wednesday, January 22, as spellers from the Holten-Richmond Middle School compete for the opportunity to represent Danvers at the regional competition in Lynn.
The winner of the regional bee in Lynn advances to the Scripps National Spelling Bee in Washington, DC!
Snow date is Wednesday, January 29.